Abuse My Nipples Dot Biz
"" -MasterHIM
Final Fantasy VI: Brave New World
By far my most ambitious project to date, Brave New World began as a joint effort between myself and a coder by the name of Synchysi to completely overhaul perhaps one of the most beloved entries in the long-running Final Fantasy series. It's since grown into a massive community project that's exceeded every expectation I could have possibly dreamed of. The end result is the product of hundreds upon thousands of man-hours from dedicated fans and something I am extremely proud to have been a part of.
Brave New World features...
Individualized spell lists and multiple stat growth options for each character
Re-coded formulas that promote diversity and allow stats to function as they should
Completely rebalanced equipment, items, spells, and skills - and brand-new enemies to use them on
Fixes for all major (and most minor) bugs along with a vast multitude of quality-of-life enhancements
...much more!
But even though much has changed, I think one player put it best when he wrote, "...the goal seems to be to celebrate what makes FFVI the game it is, rather than undoing it and making an entirely new game out of it." Beyond all else, Brave New World is everything I feel that Final Fantasy VI could have been had Squaresoft had all of the time and resources available to them that we have today. And now, thanks to the efforts of the amazing community that has grown around this mod, it finally has the chance to be exactly that.
---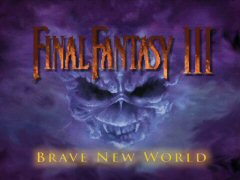 BTB's Civilization III: Somewhere In Time
Current version: Dweezil
Sid Meier's Civilization is a series that requires no introduction, and its third offering is, in my humble opinion, the greatest of them all. One of my first major modding projects and arguably what set my modding career into motion was fine-tuning the rules of the base game in an attempt to forget that the expansions ever happened. There's not much to say about this one except that it's as balanced as I feel it's ever going to get; have a glance at the readme or the quick reference sheet if you want to know more, or just dive right in and let the Civilopedia be your guide.
(An extra-special thanks goes out to my man Hart, as well as to my lovely girlfriend, for help with the logo design.)
BTB's Morrowind Mod List
Needs some work. Will get around to it one of these days.